Kearney High School in Kearney, Nebraska


Class Of 1967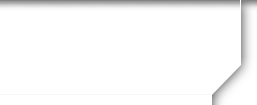 50th Reunion in 2017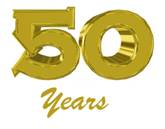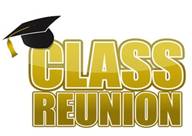 The Kearney High School Class of 1967 held its 50th Class Reunion
on Friday, September 8 and Saturday, September 9, 2017.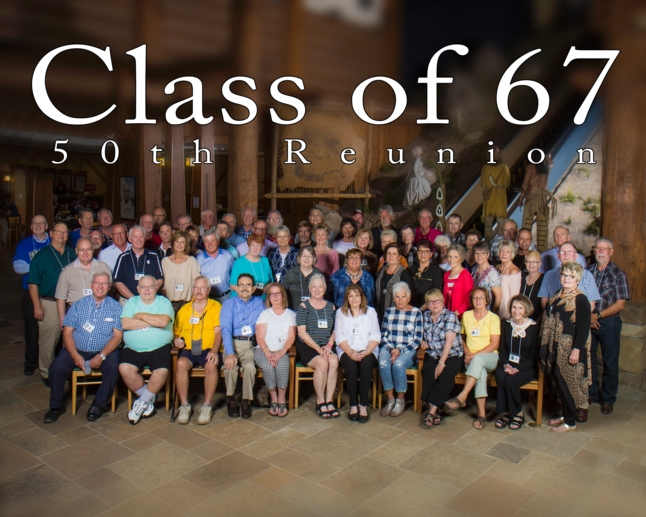 OUR FABULOUS 50TH REUNION!
Thanks to all 67 classmates (yes, exactly 67 classmates attended from the Class of '67!) plus 53 spouses and guests or 120 total attendees at our fabulous 50th Reunion on September 8-9, 2017, in Kearney.
We enjoyed eating, drinking, and visiting with classmates at The Great Platte River Road Archway and the Kearney Country Club, and guided tours of the new Kearney High School led by Lisa Reese Parish from the Kearney Public Schools Foundation, and our old Kearney Junior High (now Central Elementary) and auditorium (now the Merryman Performing Arts Center) led by Mary Haeberle, retired Junior High School Secretary.
Special thanks to our guest speakers Tom Henning and Pete Kotsiopulos, and five former KHS teachers (Riley Harris, Denny Long, Bobbie McKenzie, Judy Shrock, and Marv Shafer) who joined us at the Holiday Inn, thanks to invitations coordinated by Jere' Sue Browers Schroer.

Trudy Martin Else's KHS/KJHS Memorabilia table and centerpiece decorations were wonderful! Kathleen Anthes "In Memory" table had photos of all 27 deceased classmates. Rod Murrish's Veterans table recognized all 34 classmates who served our country as military veterans. Susan Houchin provided beautiful calligraphy for our "In Memory" and Veterans tables. Lynne Deyle Heiden produced an outstanding video of photos and music from our high school years. Click here to watch the 20-minute YouTube video on your computer; you will need speakers on your computer to hear the music.
Congratulations to Jim Lane, Susan Houchin, and Dick Oliver who were finally recognized as our three Class Valedictorians! (Class Secretary/Treasurer Charlotte Wilken Webb is holding the Valedictorian certificate and "Honor" medal of academic achievement that has now been received by Dick Oliver with his thanks!) Jere' Sue Browers Schroer obtained frames for the certificates signed by 2017's KHS Principal Dr. Jay Dostel and academic achievement medals of "Honor" from Josten's.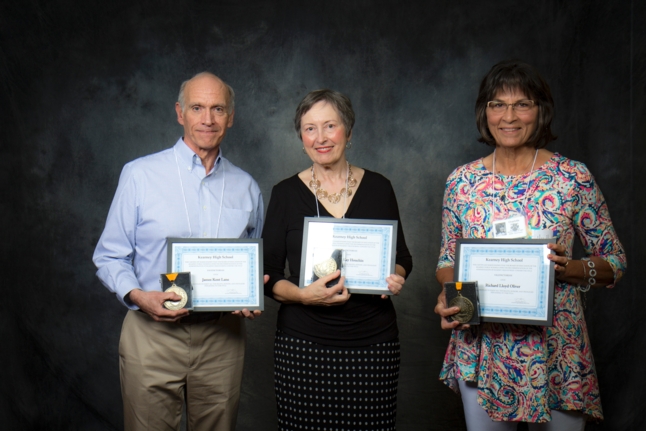 Karen Casey Shelmadine, Mike Kneese, Trudy Martin Else, Scott Nelson, Sue Christensen Heller, Tay Tollefsen, and Jeanne Thatcher Bogner provided the extra school spirit needed to lead us in singing the "Spirit of KHS" school song with music provided by the 2017 KHS Varsity Band. (Click the link to listen!)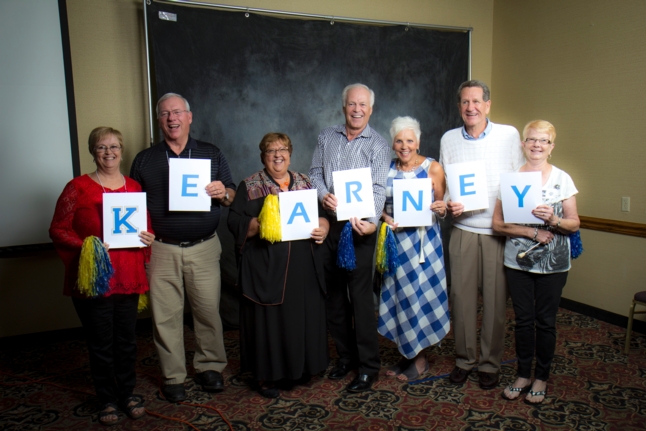 Franny Hauver Madsen, JoAnn Spahr Sear, and Barb Bellamy Woythaler co-hosted the "After Party" in the backyard at Tom and Franny's home across the street from Pioneer Park.
Whether you attended the 50th Reunion or not, you can order a Picture CD containing all of the individual, group, and class photos taken both Friday and Saturday nights by professional photographer Clinton Brill with Digital Light Photography in Kearney. Cost is $30 per CD which includes shipping and a copyright release so you can print any photos. Call Clinton at 308-440-4992 or email: photo@dl-photo.com
50th REUNION COMMITTEE
June Richey Kenton and Jo Ann Spahr Sear volunteered to serve as Kearney Co-Chairs of our 50th Reunion Committee, while Trudy Martin Else volunteered to serve as the Omaha/Lincoln Co-Chair of our 50th Reunion Committee. Chuck Wolf volunteers to serve as Website Administrator of our www.khs1967.org website.
Carol Stumbo Porter and Karen Heinz Roper volunteered to serve as 50th Reunion Co-Treasurers.
The Co-Chairs and Co-Treasurers coordinated with each other and with other classmates who volunteered to serve on the 50th Reunion Committee and help at our 50th Reunion events.
KHS CLASS COFFEES AND LUNCHES
KHS 1967 classmates who live either in the Kearney area or in the Omaha/Lincoln area have been meeting each month, and may continue to do so after our reunion. BIG thanks to the Facilitators of these class get-togethers:
KEARNEY AREA ALUMNI: Jeanne Thatcher Bogner at 308-234-1392 or jamesbogner@hotmail.com
OMAHA/LINCOLN ALUMNI: Trudy Martin Else at 402-934-8745 or trudyaelse@gmail.com
UPDATE YOUR CONTACT INFORMATION
Please review and update your contact information, especially your primary and alternate email addresses, so you can receive future emails about KHS 1967 news and events. (Login to www.khs1967.org then scroll down under "MEMBER FUNCTIONS" in the left hand menu bar, and click "Edit Contact Info".) If you've changed your email address or forgotten your password, scroll down the "ANNOUNCEMENTS" on the Home page to the red "FORGOT YOUR PASSWORD?" announcement and follow the instructions.
HELP US FIND MISSING CLASSMATES
Please review the list of "Missing Classmates" on the left hand menu bar. Click on their name if you can provide us with their email address, postal mailing address, or phone number. Or please call or write any Missing Classmates and encourage them to visit our www.khs1967.org and join the fun for free. Details for first-time visitors are posted under the "ANNOUNCEMENTS" section on our Home Page.