Kearney High School


Class Of 1967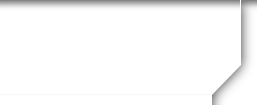 Who Are They???

Can you name the "really young" people
in these "really old" photos?

Post your guesses on the "Who Are They???" page
in the Classmate Forums
---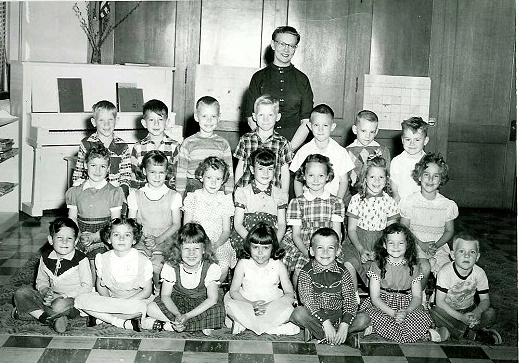 PHOTO #1: The morning Kindergarten class at A.O. Thomas Elementary School
(Photo provided by Jennifer Cottrell Reeves;
the following guesses by Jennifer, Scott Nelson, and Tay Tollefsen)
Teacher: Mrs. Margaret McClure (wife of our Junior High principal, Harold McClure)
Top Row (left to right): David Webster, Dee Cude, Unknown, Unknown, Unknown, Unknown, Tim York

Middle Row: Kathy Bugbee, Kay Minard, Unknown, Mary Gifford, Jennifer Cottrell, Jan Hoffman, Unknown
Front Row: Craig Anderson, Unknown, Jan Monroe, Unknown, Scott Nelson, Unknown, Unknown
Can you help us identify these Unknown students???
---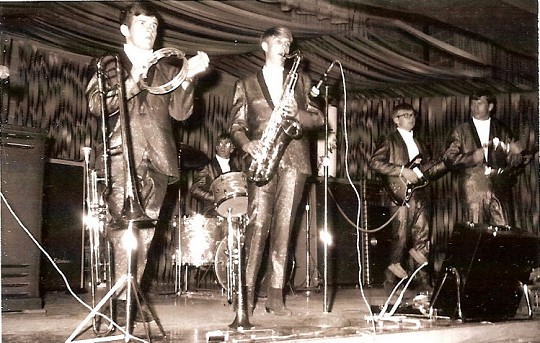 PHOTO #2: Kearney's hottest rock band in the late 1960's:
The Crusaders
(photo provided by Steve Walker; the following guesses by Scott Nelson and Tay Tollefsen)
Left to right: Lonnie Criffield (from St. Paul, Nebraska) on tambourine and trombone; Jerry "Mad Dog" Walker (KHS 67 and original band member) on drums; Mick Wise (KHS 68) on saxophone; Craig Peister (KHS 67 and original band member) on lead guitar; Steve Walker (KHS 67) on tambourine.
Two original Crusader members were missing from this photo: Dave Richardson (KHS 67) on bass guitar and Tim Anderson (KHS 67) on rhythm guitar, so Dave has provided this photo of the original Crusaders: Dave Richardson, Jerry Walker, Craig Peister, and Tim Anderson.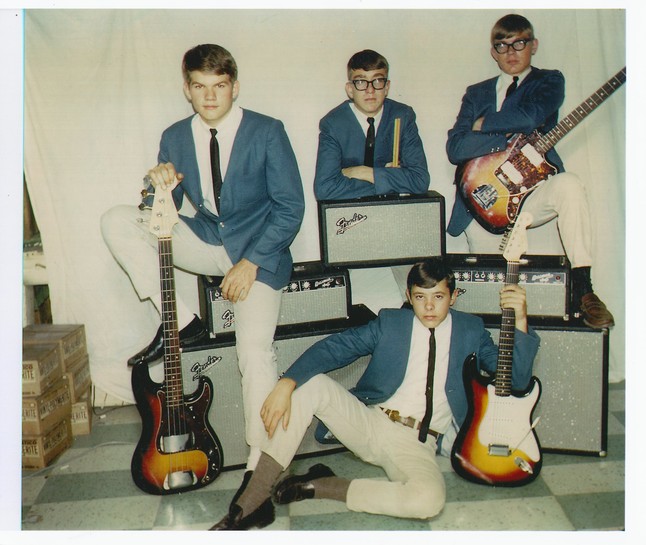 Dave remembers that the Band Director "kicked us out of the school band for practicing across the hall and being late for Band in the morning."
Do you remember who was the Junior High Band Director?
Scott Nelson was the first to identify "Don Brewer (Mr. Hairy Arms) as our Junior High Band Director that kicked out the Crusaders. Band was held on the top floor of the white building between the main Jr. High building and the Longfellow building." Joyce Bond Peterson says "Mr. Brewer is a very old man who is still living in Kearney."
---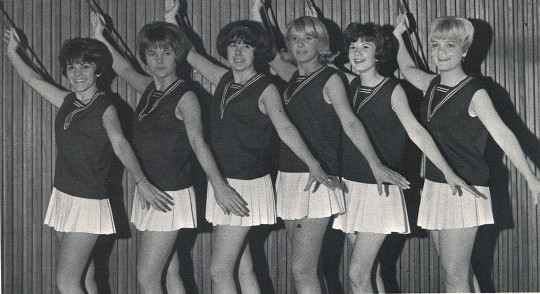 PHOTO #3: For the first time in 1966, these KHS Majorettes performed half-time shows at KHS basketball games. Can you name these twirling phenoms?
Karen Heinz Roper and Jeanne Thatcher Bogner named these "beautiful babes": Carol Dobberstein, Barb Knapp, Marsha Brodine, Jill Schmoker, Jeanne Thatcher, and JoAnn Spahr.
---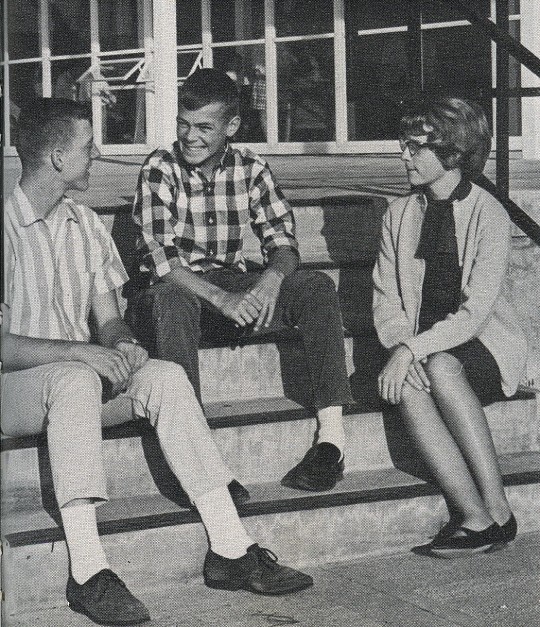 PHOTO #4: Name these 3 classmates and why they were together in 1965
Melanie Blume Johnson remembered sitting with Mike Kneese and Scott Nelson because "we were the class officers for the sophomore class. Scott was the President, Mike Vice-President and I was the Secretary. We were discussing magazine sales; that was our money maker for proms and other events for our class".
---

PHOTO #5: Name the Coach and team mates on the 1967 Varsity Basketball Team who won the Big 10 Championship. (To see a photo of six of these same athletes today, visit our "40th Reunion in 2007" page.)
Steve "Oly" Olson, Dave "Haystacks" Richardson, and Gregg Kenyon remembered Coach Jerry "Slats" Kroeger. Steve claims Coach Kroeger was in the center of the photo "because the year before, he was on the side, and the yearbook staff 'accidentally' cut him out."
---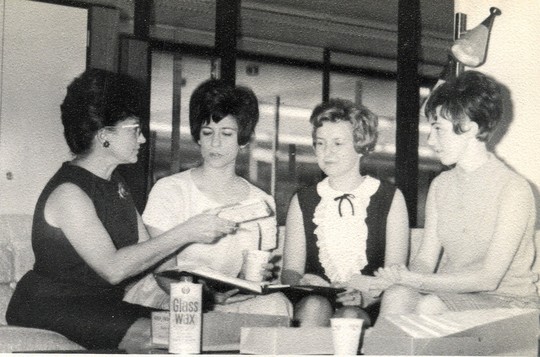 PHOTO #6: Name the four teachers who sponsored the Booster Club in 1967.
(100 Bonus points if the correct answer is submitted by a guy.)
Karen Heinz Roper recognized Thelma Browers, Karen Stange, Judy Schrock and Kari Keating. Karen also noticed the bottle of Glass Wax on the table! "We used to use that when decorating windows for football and basketball games! Haven't seen that around for awhile!!"
---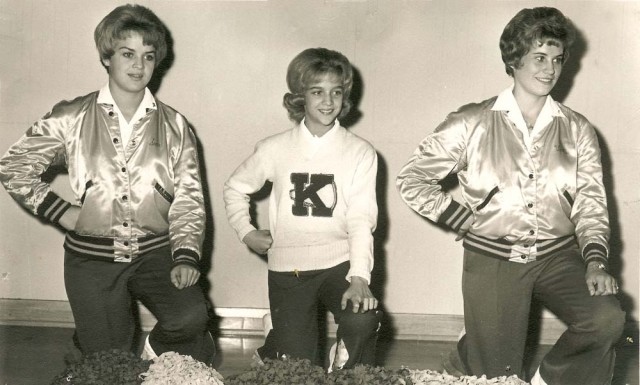 PHOTO #7: Can you name the KHS 1967 classmate in the center of this photo? Can you name the KHS Varsity Cheerleaders (who are both older sisters of KHS 1967 classmates)?
Scott Nelson said this was easy: Sue Zikmund, a YOUNG Sally Zikmund, and Vickie Livingston (Les' older sister). Sue and Vickie were in Scott's sister's class that graduated in 1963.

---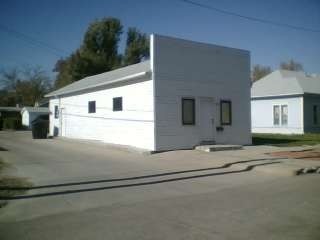 PHOTO #8: Can you name this famous building from our past
(as it now looks today)?

Joyce Bond Peterson knew this was John Reddy's store
during our days at Kearney Junior High School.
(Joyce wins two Twisties!)
---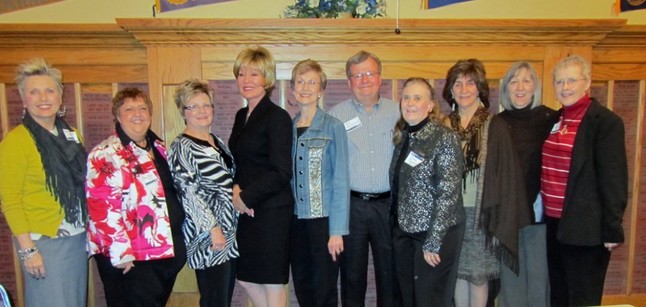 PHOTO #9: Our classmates Franny Hauver Madsen, Trudy Martin Else, and Jo Ann Spahr Sear attended a reception for Leslie "Bunny" Easterbook (in black) before her "Welcome Home" concert at the Merryman Center on January 27. But can you identify Bunny's six KHS 1966 classmates to her right?
---
Post your guesses on the "Who Are They???" page
in the Classmates Forums
Think that you can stump the Class of 1967
with another "Who Are They???" photo of our classmates?
Email your old photos (and the correct answers)
to: siteadmin@khs1967.org