Kearney High School


Class Of 1967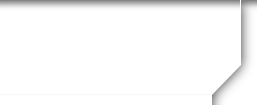 KHS Memories of 1967
These lists were originally compiled and presented by Tay Tollefsen during our 40th Class Reunion. Document scans and conversion to Adobe Acrobat files provided by Don Carpenter. Thanks, Tay and Don!

If you have any additions or corrections to any of these lists, please click on "Contact Us" from the Home Page and e-mail us the information. Thanks!

---
1967 KEARNEY PUBLIC SCHOOLS
Kearney High School (KHS) had 756 students in 3 grades in 1967 (compared to 1,459 students in 2008).
Whittier Elementary School is now an Administration building.
Longfellow Junior High was torn down.
Kearney Junior High is now Central Elementary School.
Kearney Junior High Auditorium is now the Merryman Performing Arts Center.
Kearney Public Schools now has 3 preschools, 12 elementary schools, 2 middle schools (Horizon and Sunrise), but still 1 high school with a student/teacher ratio of 17 students per teacher. The dropout rate from Kearney High School is now less than 1%.
---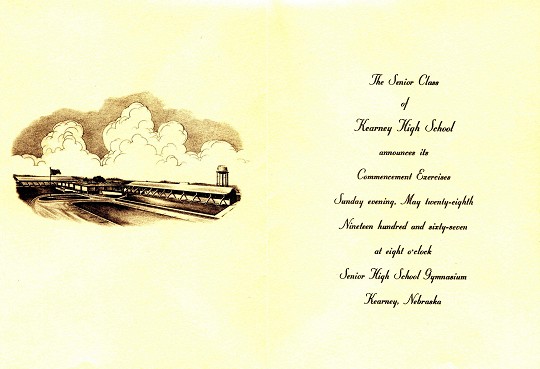 The KHS Class of 1967 had 222 graduates listed in the Graduation Program (compared to 402 graduates in 2006).

However, the May 28, 1967 issue of the ECHO reported the Class of 1967 had 227 students (some may have transferred before graduation) which tied the Class of 1965 as the largest class ever to attend KHS.
KHS 1967 Senior Banquet on May 5, 1967
userfiles/File/KHS1967_SeniorBanquetProgram.pdf
KHS 1967 Graduation Program on May 28, 1967
userfiles/File/KHS1967GraduationProgram.pdf

Kearney Daily Hub article about KHS 1967 graduation
userfiles/File/KearneyHubGraduationArticle(1).pdf

KHS Echo article about KHS 1967 graduation
userfiles/File/KHSEcho_1967-05-28.jpg

KHS 1967 Class Prophecy
userfiles/File/KHS1967_ClassProphecy.pdf
---
SCHOLASTIC AND LEADERSHIP ACHIEVEMENTS
(listed alphabetically)
Sue Houchin, Jim Lane and Dick Oliver tied with perfect grade point averages of 1.000 (straight A's) throughout high school, but the School Board and KHS administration decided not to choose a Valedictorian and Salutatorian in 1967. School Board member Dr. Robert Nootz said "the honor of serving as Valedictorian or Salutatorian dies somewhat when several students have to share it", so Sue, Jim and Dick never received the honors that they had earned.
1967 DAR AWARD
First Place: Barb Knapp
Second Place: Jean Johnson
Third Place: Sue Houchin
1967 ELKS CLUB AWARD
Sweepstakes: Ron Gorgen and Cindy Hiner
Second Place: Chuck Wolf
Third Place: Scott Nelson
Fourth Place: Barb Knapp
1967 NATIONAL MERIT SCHOLAR (SEMI-FINALIST)
Dick Oliver

1967 UNIVERSITY OF NEBRASKA REGENTS SCHOLAR
Dick Oliver

1967 WHO'S WHO IN TEENAGE AMERICA
Cindy Hiner
Sue Houchin
---
ORGANIZATION OFFICERS
(listed alphabetically)
1967 BEARCAT BOOSTER CLUB OFFICERS
President: Sue Christensen
Vice President: Cindy Hiner
Historian: Marge Lehmanowsky
Treasurer: Marcia Galleen
Secretary: Anne Kotsiopolus
1967 CHOIR OFFICERS
President: Dave Kovanda
Vice President: Jerry Jelken
Secretary: Charlotte Wilken
Librarians: Paul Longfellow and Steve Walker
1967 DISTRIBUTIVE EDUCATION CLUB OF AMERICA (DECA) OFFICERS
President: Lee Sauter
Vice President: Richard Gibreal
Secretary: Mike McCue
Treasurer: John Orcutt
Reporter: Bill Franz
1967 DRAMA CLUB OFFICERS
President: Mark Spelts
Vice President: Bob Fowler
Secretary: Barb Bellamy
Coordinator: Trudy Martin
1967 ECHO STAFF
Advertising Manager: Carol Kimball
Business Manager: Vicki Gibbons
Editors: Lynne Deyle, Jan Hoffman, Sally Zikmund
Feature Page Editor: Linda Bixby
Sports Editors: Dan Cooper and Lyle Garrelts
1967 K-CLUB OFFICERS
President: Terry Fairfield
Vice President: Tay Tollefsen
Secretary/Treasurer: Kirk Melson
1967 LIBRARY CLUB OFFICERS
President: Cristi Lindblom
Vice President: Pam Ball
Secretary: Cheyl Rine
1967 LOG (YEARBOOK) STAFF
Editor-In-Chief: Barb Knapp
Business Manager: Carol Stumbo

1967 NATIONAL FORENSIC LEAGUE (DEBATE) OFFICERS
President: Rick Merryman
Vice President: Jim Lane
Secretary: Sue Houchin
1967 SENIOR CLASS OFFICERS
Vice President: Cyndy Oman
Secretary: Charlotte Wilken
1967 STUDENT ADVISORY BOARD
President: Ron Gorgen
Senior Representatives: Linda Bixby, Cindy Hiner, Jerry Jelkin, Mike Kneese, Paul Miller, Scott Nelson
Junior Representatives: Sandy Kay, Anne Kotsiopulos, Mark Wendland
Sophomore Representatives: Tom Bixby, Celia Hoffman
1967 Y-TEEN OFFICERS
President: Cyndy Oman
Vice President: Jere Sue Browers
Treasurer: Barb Nootz
Secretary and District 3 President: Marcia Gulleen

---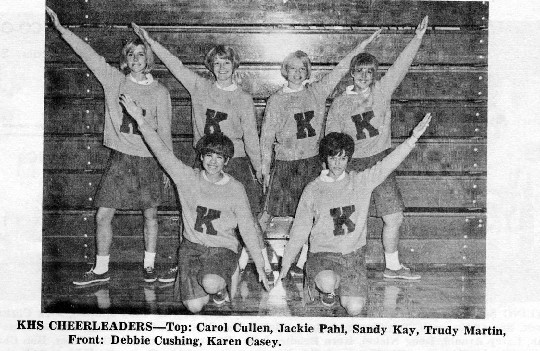 1967 VARSITY CHEERLEADERS
---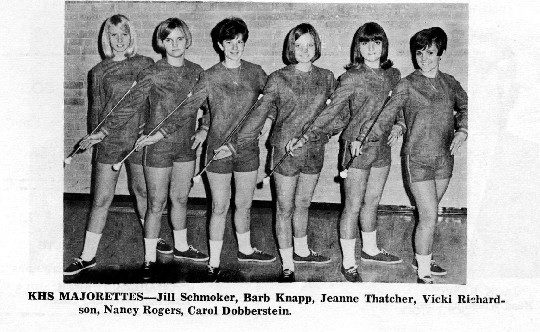 1967 BAND DRUM MAJOR AND MAJORETTES
Drum Major: Mark Wendland
Head Majorette: Barb Knapp
Majorettes: Carol Dobberstein, Vickie Richardson, Nancy Rogers, Jill Schmoker, and Jeanne Thatcher
---
1967 COLOR WEEK (HOMECOMING) ROYALTY
Color Day Homecoming Queen: June Richey
Senior Attendants: Karen Casey and Sue Christensen
Junior Attendant: Linda Parr
Sophomore Attendant: Marcia Larsen
1967 CHRISTMAS BALL/WINTER ROYALTY
Senior Beau and Belle: Tay Tollefsen and Cindy Hiner
Junior Attendants: Bruce Rippen and Jill Schmoker
Sophomore Attendants: Jeff Ayers and Vicki Richardson
1967 DEMOLAY
Master Counselors: Don Carpenter and Scott Nelson
Queens: Karen Casey and Cindy Hiner
1967 BETTY CROCKER TEST
Homemaker of the Year: Marge Lehmanowsky
1968 MISS KEARNEY PAGEANT
Miss Kearney: Jackie Pahl
---

1967 SPORTS ACHIEVEMENTS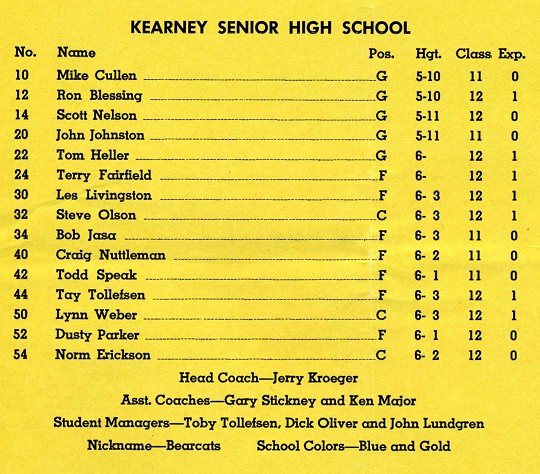 Basketball: 16-4 record; 1st in West Big Ten Division; with 4 seconds left to play, Steve Olson hit the winning shot to beat Columbus 72 to 70 and win the Big Ten Championship; lost to Lincoln Northeast in Semi-finals in the State Basketball Tournament in Omaha; ranked 3rd in State in Class A

Kearney Hub article on February 25, 1967 about KHS win over Columbus
userfiles/File/KHS1967_Hub_1967-02-25.pdf
Cross Country: 1st in District, 2nd in Big Ten, 4th in State in Class A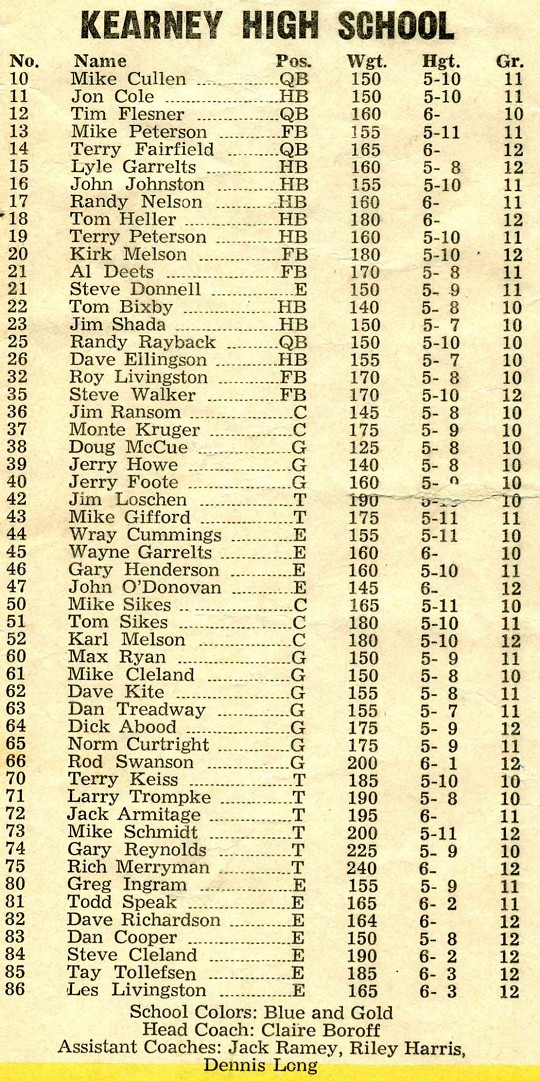 Football: 8-1 record ranked 8th in State in Class A; tied with Scottsbluff for West Big Ten Division title
Omaha World Herald
named Tom Heller as "Athlete of the Year"; dubbed "Mr. Touchdown" by Kearney Hub's Sports Editor Bob Van Tine; 1st Team All-State Halfback in Football; 1st Team All-State Guard in Basketball; competed in the State Track Meet in Hurdles and High Jump; University of Nebraska Football letterman as Defensive Back and Punt Returner.
Shrine Bowl selected Tom Heller, Karl Melson, Kirk Melson, and Tay Tollefsen; this was the last time that four athletes were chosen from the same school
Tennis: Two-time State Doubles Champions Les Livingston and Roger Comstock; 2nd in State Class B
Track: Jon Cole set school record of 9.7 in 100 yard dash; two-time Big Ten champ in 100 and 220 yard dash; dubbed the "Cat Comet" by Kearney Hub's Sports Editor Bob Van Tine; Track team placed First in Big Ten, Second in District, and Fifth in State.
Wrestling: 7-1 record; 4th in District and Big Ten
---

1967 STUDENT AND TEACHER NICKNAMES
Colonial Dick: Dick Hansen
Coop: Dan Cooper
Dobie: Carol Dobberstein
Haystacks: Dave Richardson
J.K.: Jerry Kroeger
Mac: Harold McClure
Monk: Tom Nelson
Motor Mouth: Trudy Martin
Mr. Touchdown: Tom Heller
Nat: Natalie Peppler
Slats: Marion Morrow
Squeek: Dick Oliver
Truck Driver: Ron Blessing
---

1967 GRADUATES WHO BECAME TEACHERS
Dick Abood: JD and Professor of Pharmacy Practice at University of the Pacific in Stockton, CA
Sheila (Anderson) Armitage: French and Spanish teacher in Fairfax County, VA schools
Craig Anderson: Retired from Sweetwater Union High School
Linda (Bixby) Everett: Family & Consumer Science teacher in Salisbury, CT high school
Jere Sue (Browers) Schroer: Family & Consumer Science teacher and Middle School counselor in Kearney, NE
Pam (Caldwell) Pouliot: Vocal Music teacher for 27 years
Aleta Campbell: Elementary teacher in Colorado Springs, CO and Cairo, NE
Jim Carlson: Taught in Centennial Schools in Utica, NE
Don Carpenter: PhD and College Professor at Mesa State College in Grand Junction, CO
Sue (Christensen) Heller: School Counselor in Denver, CO
Carol (Dobberstein) Boucher: Science teacher and pre-school director in Dodge, NE
Lyle Garrelts: Retired from Park Elementary School after 30 years
Bonnie (Green) Hoemann: Curriculum Specialist at Burke High School in Omaha, NE
Tom Heller: School Registrar and Coach in Denver, CO
Cindy Hiner (Cheyene Autumn): Physical Education teacher at Bellevue Mission Junior High
Jan (Hoffman) Swingle: Retired school counselor for 35 years in Wyoming and Arizona
Dayle Johnson: Retired Vocal Music teacher in Burtrand and Ord, NE; Show Choir Coordinator and Adjunct Faculty at UNO in Omaha, NE
Jeanine (Kealy) Goedert: Active Elementary School Teacher in Kearney, NE
Mike Kneese: High School Math teacher for 19 years in Blackfoot, ID
Les Livingston: Biology/Science Teacher and Tennis Coach at KHS
Trudy (Martin) Else: Art and Language Arts teacher for 19 years at Cozad Middle School in Cozad, NE; direct Children's Theater group.
Karl Melson: Educator and Coach for 33 years, now in Aurora, NE
Kirk Melson: Retired Physical Education teacher and Coach in Central City, Ogallala, and Kearney schools for 30 years
Ann (Mendenhall) Gannon: Kindergarten teacher at Humphrey St. Francis in Columbus, NE for 10 years
Connie (Schroder) Coatman: Retired after 27 years in private school and public library work
Randy Wilson: Teacher and Counselor at Cozad Middle School
---
1967 CLASSMATES WHO MOVED AWAY PRIOR TO GRADUATION

Bob Cahoy: moved to Lincoln; died in an auto/train acident in late 1970's
Dee Cude: moved to Superior, NE; graduated in 1967
Tony Deeb: moved to Omaha, NE; graduated in 1967
Steve Hodge: moved to Longmont, CO; graduated in 1967
Molly Mattson: moved to California; graduated in 1967
Steve Mosley: moved to Lexington, NE; graduated in 1967
---
1967 KEARNEY BUSINESSES
(most are no longer in business)

ABC Rexall Drug
Ayer's Clothing
A&W Drive Inn
Backlot
Baumgartner's
Bico's Pizza
Bike's Burger Bar
Bob's Kwik Shop
Brass Buckle
Camel's Café
Cash-Wa Candy Company
Central Cafe
Circle "S" Drive
Cliff's for Men
Corral Cafe
Dog and Suds
Fireside Lounge
Foote's Café
Fort Kearney Hotel
Fort Theater
Gambles
George's Grocery
Grandpa's Steakhouse
Gregerson's Jewelry
Hawthorne Jewelry
Hellman's
Hirschfeld's
Jake's IGA Foodliner: "The Store with the Magic Door"
Kaufmann-Wernert
Kearney Bluebell Creamery
Kearney Drive-In
Kearney Floral
KGFW Radio
Kizzier Chevrolet
Koo Koo Burger Bar
KRNY Radio
Lantz Drug
Little America
McCue's
Mills Clothing
Murrish Stables
"Neighborly" Haberle Drug Store
O's Drive Inn
Paul's Broiler
Pitcher's Jewelry
Plane View Cafe
Ray's Pizza
Raymond Studio
Reddy's Grocery
Roy's Café
Rubin's
Ruter's
Sally Café
Sehnert's Bakery
Spelts Lumber
St. John's Motel
Schweser's
Tastee Freeze
Tollefsen-Elliott Lumber
Unimart
Western Auto
World Theater
Young Modern's

1967 LUNCH AT JOHN REDDY'S GROCERY STORE

Appetizers: Twisties, coins, and nibs
Dairy: 2 pieces of sliced cheese
Grains: 2 glazed donuts
Carbs: 1 sack of greasy potato chips
Entrée: More twisties, coins and nibs
Drink: Chocolate pop or Coca-cola with peanuts
Dessert: Eskimo pie, cherry barrels and root beer barrels
And you guessed it: More twisties, coins and nibs
Click here to download an Adobe Acrobat file containing a photo of John Reddy behind the counter at Reddy's Grocery. Thi
s photo was taken by Earl Jensen in 1986 and hung on Harvey Henning's office wall at Cash-Wa Distributing Company for many years. Harvey's son Tom Henning (KHS 1966) recently scanned the photo and provided it to fellow KHS alumni and friends.
---

1967 LOCAL ROCK BANDS
"The Crusaders" from Kearney: Tim Anderson, Craig Peister, Dave Richardson, and Jerry "Mad Dog" Walker were the original band members; later additions included Dave Bass, Lonnie Criffield, Jerry Jelken, Chip Montgomery, Steve Walker, and Mick Wise.
"The Elastic Band" from Kearney: John Beckman, Dan Lynn, Dick Hindalong, Greg Ingram, Bill Nelson, Randy Nelson, John Randolph, and Ray Randolph
The Astronauts from Boulder, CO
The Coachmen from Omaha
The Drivin' Dynamics from Scottsbluff
The Druids from Lincoln
The Fabulous Flippers from Norfolk
The Henchman from Grand Island
The Rumbles from Omaha
The Smoke Ring from Norfolk
TEENAGE NIGHT CLUB
Sandy's Escape in Omaha
---
1.
Respect
- Aretha Franklin
2.
Light My Fire
- Doors
3.
Sunshine Of Your Love
- Cream
4.
Purple Haze
- Jimi Hendrix
5.
A Day In The Life
- Beatles
6.
Whiter Shade Of Pale
- Procol Harum
7.
Somebody To Love
- Jefferson Airplane
8.
Soul Man
- Sam & Dave
9.
Strawberry Fields Forever
- Beatles
10.
Nights In White Satin
- Moody Blues
1. In the Heat of the Night
8. Guess Who's Coming to Dinner
10. The Fearless Vampire Killers
3. The Andy Griffith Show
5. The Jackie Gleason Show
9. The Beverly Hillbillies
CELEBRITIES WHO GRADUATED HIGH SCHOOL IN 1967

John Belushi
Jeff Bridges
Keith Carradine
Phyllis George
Richard Gere
Maurice and Robin Gibb
Pam Grier
Bruce Jenner
Billy Joel
Don Johnson
Andy Kaufman
Jessica Lange
Vicki Lawrence
Linda Lovelace
Bonnie Raitt
MIchael Richards
Lionel Richie
Gene Simmons
Sissy Spacek
Rick Springfield
Bruce Springsteen
Meryl Streep
Ivana Trump
Sigourney Weaver

1967 COST OF LIVING
Average New House: $14,500
Average Family Income: $7,500 per year
Tuition to University of Nebraska at Lincoln: $425 per year
Movie Ticket: $1.25 per person
Gallon of Gasoline: 33 cents
Loaf of Bread: 22 cents
First Class Postage: 5 cents